About Us
Leave your plumbing problems to the pros! Call All-n-One Plumbing at (816) 886-7600 for fast, friendly service in Independence, MO and greater Kansas City area.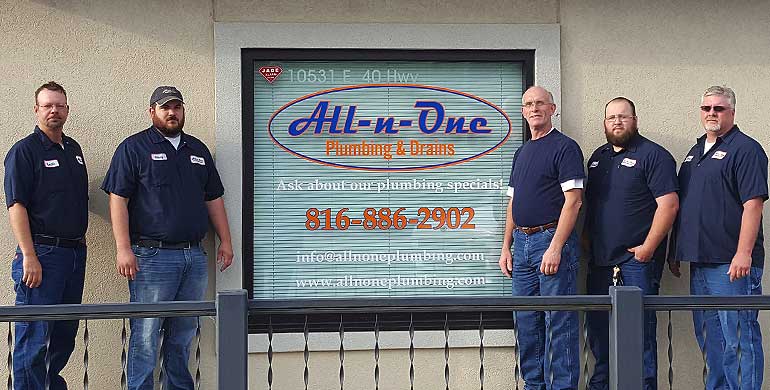 Are you looking for a dependable plumber in Independence, MO who also services the greater Kansas City metro? You are in the right place! All-n-One Plumbing was founded with the desire to provide Independence, MO and greater Kansas City area residents with exceptional customer service and reasonable prices. We work hard to earn your trust so we can become your go-to plumbing team whenever the unexpected occurs. Give us a call today to discuss your needs, and we will help guide you towards the best solution!
All-n-One Plumbing is licensed and insured to perform both commercial and residential services throughout the greater Kansas City area. We strive to provide all of our customers with quality service at affordable prices.
Customer Benefits
Unparalleled Customer Service
Your satisfaction is our number one priority. We want you to be happy with the service provided, which is why we go above and beyond to make sure you receive the most accurate and cost-effective solutions. If you are not satisfied with any part of the service, we will make every effort to remedy the situation.
Quick Response
Don't wait around all day for your plumber to show up. We respect your time and know that you have other things to do. We will always provide reasonable windows for arrival and call when the tech is on the way. We make every effort to have a technician dispatched to your door as quickly as possible.
Speedy Repairs
In an effort to keep up with efficiency, our service vehicles are stocked with the most common parts and materials needed. This cuts down – or even eliminates – the need for several supply runs. We do our best to complete jobs in one trip if possible, so you can save time and money. However, quick work does not mean quality is compromised. Our talented technicians will leave no detail overlooked and promise only top-notch craftsmanship.
Clean Work Environment
Rest assured that our technicians will leave your property as clean as we found it. We will never leave a mess in your home for you to clean up.
Honest Service
When you work with us, you can expect to receive fair and up-front quotes. The price we quote is the price you pay; there are no hidden fees or charges. We eliminate any surprises at the end by keeping every aspect of the process – including pricing and job details – fully transparent. We do not carry out any work until we have your authorization, nor do we consider the job done until you are satisfied.
The All-n-One Plumbing Difference
We were established in 2007 with the goal of providing our community with better plumbing services – personal attention and better prices. What started out as one technician running the business from his home has grown into a full-service plumbing company featuring a team of professionals dedicated to providing excellent service every day – just like we did on day one.
Your satisfaction is our number one priority. Call All-n-One Plumbing today at (816) 886-7600 to schedule your estimate and be on your way to enjoying greater peace of mind!
Your experts in Bathroom Remodeling, Drain Cleaning Services, Gas Line Installation & Repair, Hydrojetting, Kitchen Plumbing, Repiping, Sewer Line Repair, Sump Pumps, Toilet Installation & Repair, Video-Plumbing Inspection & Sewer Inspection, and Water Heater Services.
Please visit our reviews page to hear what our customers have to say about us from sites such as: