Your Gladstone Plumber
Are you having plumbing problems? A Gladstone plumber can help you today. Call (816) 886-7600 and reach a team of experts dedicated to solving them for you. At All-n-One Plumbing, your experience is what matters most. Learn more about how you can take advantage of our online specials by visiting our coupons page today.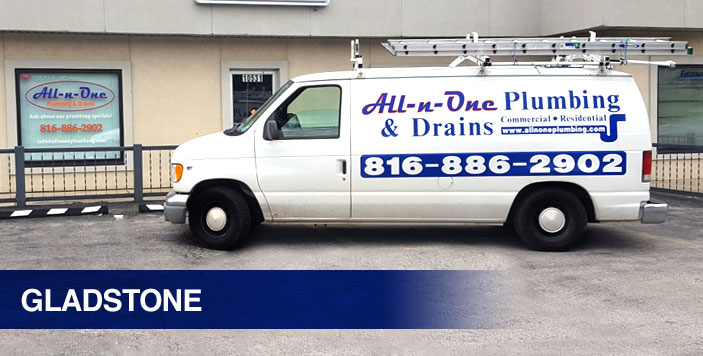 Get reliable plumbing solutions in Gladstone, MO when you work with All-n-One Plumbing. A Gladstone plumber is happy to arrive at your home and perform a free, no-obligation estimate for you and, if you'd like, we can begin working to find a speedy solution right away. Our commitment to your experience means you will always have the chance to speak to a friendly, approachable technician who is happy to take the time to explain what needs to be done, so you can be well-informed and make the right choice.
Not just that, but all of our worked is backed by a warranty, so if something goes wrong, you can call us back to resolve it free of charge. Talk about peace of mind!
Why Hire Our Plumbers?
All-n-One Plumbing is a locally owned family business, which means we understand the value of a dollar and the pressure you feel to make the best choices to keep your family safe. That's why we offer fair, competitive rates, upfront pricing and no-obligation quotes on all of our services and put a strong focus on providing exceptional customer service with every job we do.
Here are just a few more reasons to choose our team:
We offer hydrojetting service: Hydrojetting is an extremely powerful method of scraping away years of debris and buildup.
Expect fast results every time: We arrive on time and work as quickly and efficiently as possible so that you can return to your day-to-day routine.
Enjoy Up Front estimates: We want you to feel confident in your choice of plumbing specialist, which is why we offer Up Front estimates before we begin working.
We have winning attitudes: The team at All-n-One Plumbing has attitudes that can't be beat. We are committed to finding personalized solutions to your problems.
We offer flexible payment options: We know that paying for an unexpected plumbing emergency can be stressful, which is why we accept a variety of payment options.
Plumbing Solutions in Gladstone, MO:
Don't settle for sub-par plumbing solutions. Call (816) 886-7600 and reach a team of professionals who have been working in Gladstone, MO since 2007. We're ready to help.
Please visit our reviews page to hear what our customers have to say about us from sites such as: