Lenexa Plumber – Repair & Installation
Are you looking for a dependable Lenexa plumber? Call now at 816-886-7600 to schedule an immediate appointment in your area.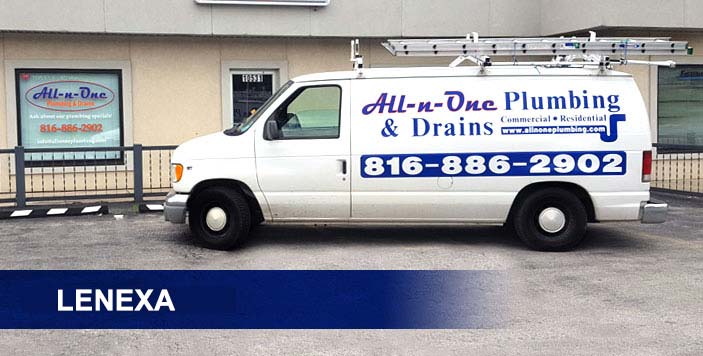 At All-n-One Plumbing we are committed to ensuring hassle-free experiences for our customers. As local Lenexa plumbing service providers, we understand the unique drain and sewer needs of our community. When you work with us you can expect highly trained professionals who have your best interests in mind.
Our customers enjoy:
Fast turnarounds
Upfront pricing
Tailored solutions
No mess left behind
Total peace of mind
Your safety and comfort always come first. Whether it's a blocked drain, broken water heater, or leaking sewer pipe, we'll properly diagnose the problem and present you with your options.
Safe & Reliable Drain Cleaning
If you are struggling with recurring drain issues, get your system inspected by a professional. All-n-One Plumbing performs accurate video pipe inspections that pinpoint the source of the problem. We'll be able to know what is causing the blockage and where it's located. From this we are able to recommend the best course of action, whether it's snaking or hydrojetting.
All-n-One Plumbing specializes in hydrojet services. This highly effective drain cleaning method scours pipe walls clean of corrosion, grease, and other heavy buildup. It will return your pipes to flowing like new, without using any harmful chemicals.
Water Heater Services
Are you wondering if you need to replace your water heater, or if it can get on with just a repair? All-n-One Plumbing will let you know. A thorough inspection allows us to present you with accurate recommendations and solutions. In general, if your water heater is 8-12 years old and showing recurring signs of inefficiency, it may be more cost efficient to replace it. A newer, more efficient system will help you save on constant repairs and wasted energy. If replacement is recommended, we'll help you choose the right system based on your hot water needs and energy saving goals.
Plumbing Solutions in Lenexa, KS:
Contact us at 816-886-7600 today to discuss your drain and sewer needs. Fast service, no-surprise pricing, and quality workmanship.
Please visit our reviews page to hear what our customers have to say about us from sites such as: