Why Choose All-n-One Plumbing
Peace of mind is just a phone call away! Contact your local plumbers at All-n-One Plumbing for the right solutions. Serving Independence, MO and the greater Kansas City area. Give us a call today at (816) 886-7600 to schedule your estimate.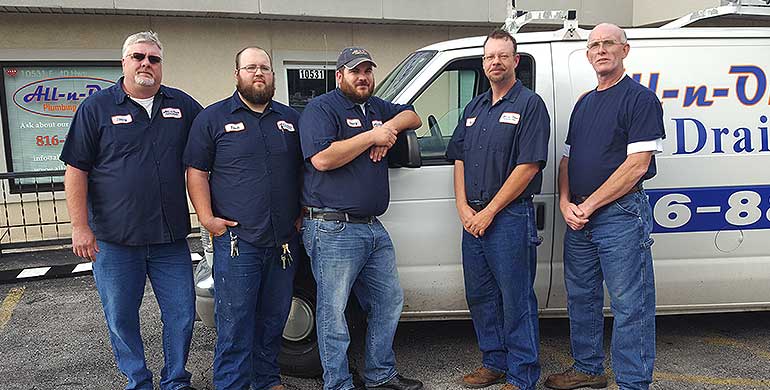 Plumbing problems never happen at a convenient time! This is why it's crucial for homeowners to have a reliable expert who can handle issues at a moment's notice.
At All-n-One Plumbing, we work hard to become the Independence, MO plumbers our neighbors trust for life! We are dedicated to delivering unparalleled customer care at competitive local prices. You are treated to top-notch service from the first phone call to job completion. Read on to learn more about the benefits of working with us.
Educating the Customer
An educated customer is a satisfied customer. We take the time to listen to your needs and discuss the issue with you in detail. We arm you with the information you need to make an educated decision. You will never be pressured to agree to a service that you do not want or need. If you do not feel comfortable with the option we present to you, we respect your decision and will not carry out any work. This is part of the no-obligation estimates we offer.
By focusing on educating our customers rather than pushing for a service they don't actually need, we are able to provide you with customized solutions that eliminate the problem at the source. This allows you to enjoy the peace of mind you've been looking for, without worrying about recurring problems.
More Personalized Service
We are a family-owned and operated company focused on providing each of our customers with the personal attention they deserve. We take pride in delivering services that are tailored to meet your specific needs. There is no one-size-fits-all solution when it comes to your plumbing problem. Every customer can expect a customized approach – because that's what you deserve!
Our favorite part of the job is connecting with our customers, learning about their needs, and helping them achieve total home comfort. Every day brings new challenges. We can start with a small repair job in the morning, and end the day with a whole-home rough-in or a full sewer line replacement. The varied work we do allows us to meet interesting individuals from our community, and we strive to develop long-lasting relationships with our customers and be the go-to plumber they need for years to come.
Your safety and comfort always come first. Get treated to outstanding service and workmanship when you call us today at (816) 886-7600. Enjoy estimates and 100% satisfaction guaranteed.
Your experts in Bathroom Remodeling, Drain Cleaning Services, Gas Line Installation & Repair, Hydrojetting, Kitchen Plumbing, Repiping, Sewer Line Repair, Sump Pumps, Toilet Installation & Repair, Video-Plumbing Inspection & Sewer Inspection, and Water Heater Services.
Please visit our reviews page to hear what our customers have to say about us from sites such as: