Bonner Springs Plumbing Service
Are you looking for a reliable Bonner Springs plumber? Call us at 816-886-7600 today to discuss your current plumbing issues with our team.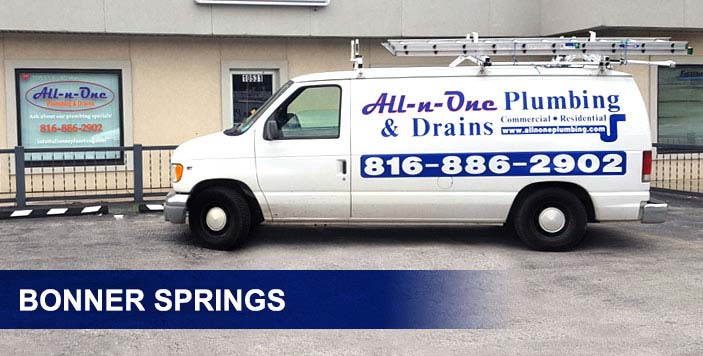 When it happens, there is nothing more inconvenient than an unexpected plumbing problem. If you are struggling with a burst pipe, blocked drain, or broken water heater, do you have a trusted Bonner Springs plumber to diagnose the problem? All-n-One Plumbing is your local plumbing company committed to delivering top notch service.
Our customers enjoy:
Fast turnarounds
Accurate diagnosis
Upfront pricing
No mess left behind
Tailored solutions
Total peace of mind
When you work with All-n-One Plumbing, expect hassle-free service from start to finish. Our goal is to get you back to your normal routine as quickly as possible using safe, proven techniques.
Drain Cleaning Services
Need professional drain cleaning solutions? Our team uses the latest technology to safely clear your sewer and drain lines. We'll first perform a video inspection to identify the problem, then either carry out drain snaking or hydrojetting services.
For thorough drain line cleaning, hydrojetting does the job. It scours pipe walls clean of corrosion, grease, and other buildup using high pressure water. Give us a call to find out if hydrojetting is right for you.
Water Heater Repair & Installation
Are you wondering if you should repair or replace your water heater? Contact All-n-One Plumbing for a professional inspection.
In general, if your water heater is 8-12 years old and starting to experience recurring issues, it may be time to look for a replacement. Our water heater specialists will diagnose the problem and help you make the most cost efficient decision. We take your goals and hot water needs into consideration when recommending the best new products.
Plumbing Solutions in Bonner Springs, MO:
Contact us at 816-886-7600 today to schedule an immediate plumbing service in Bonner Springs, KS.
Please visit our reviews page to hear what our customers have to say about us from sites such as: