Local Shawnee Plumber
Are you looking for a reliable Shawnee plumber? Call 816-886-7600 today to consult with the experts at All-n-One Plumbing, your local Shawnee plumber.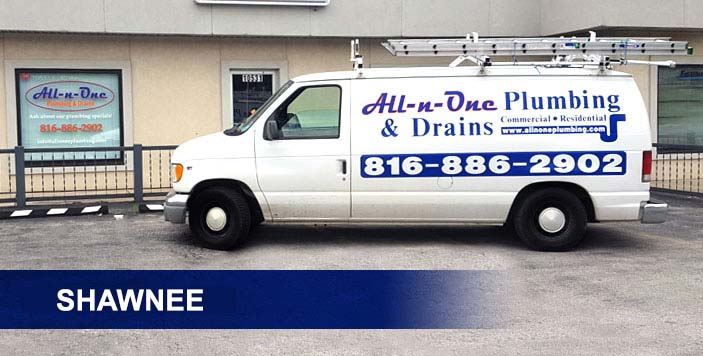 When it happens, there is nothing more frustrating than coming home to a burst pipe, broken water heater, or overflowing drain. At All-n-One Plumbing we are committed to providing fast, quality solutions that get to the bottom of your problem.
Our Shawnee, KS customers enjoy:
Easy scheduling
Accurate diagnosis
Tailored solutions
No-surprise pricing
No mess left behind
Total peace of mind
When you work with us you receive the personal attention you deserve from start to finish. You can expect a live answer when you call, professionals who actually listen to your concerns, and plumbers who design solutions based on your specific needs.
Safe Drain Cleaning Solutions
If you are struggling with recurring drain clogs, get it inspected by a trusted plumber. All-n-One Plumbing provides accurate video pipe inspections that pinpoint the source of the clog and enable us to present you with the right solution. We will carry out either drain snaking services or hydrojetting. The latter is for clearing excessive buildup such as corrosion or grease. It is highly effective at returning your pipes to flowing like new, and is 100% safe since it only uses water.
Water Heater Services
Are you wondering if it's time to repair or replace your water heater? Our experts will diagnose the issue and let you know your options. We make every effort to provide repairs and get your existing unit to work longer; however, if you have an older water heater it may be more cost effective to replace it. Water heaters that are 8-10 years old and experiencing frequent problems are better off getting replaced by a more efficient unit.
All-n-One Plumbing will help you during every step of the installation process. We'll help you find the right water heater that fits your hot water needs and energy goals. Our experts will accurately install your new system and make sure it's working efficiently right from the start.
Plumbing Solutions in Shawnee, KS:
Contact us now at 816-886-7600 to discuss your plumbing needs in Shawnee, KS and get the fast, high quality service you deserve.
Please visit our reviews page to hear what our customers have to say about us from sites such as: