Roeland Park, KS Plumbing Services
Looking for a reliable Roeland Park plumber? Call 816-886-7600 now to schedule immediate plumbing service in Roeland Park, KS.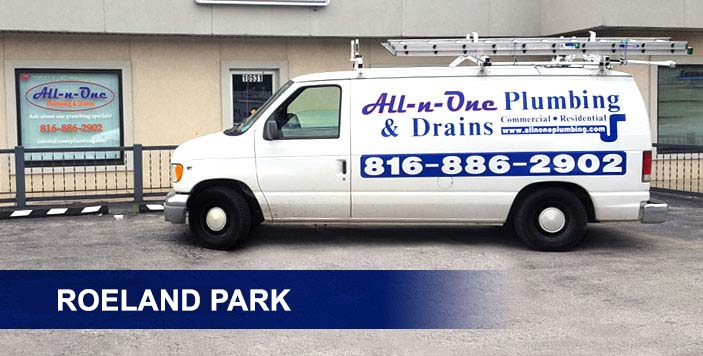 As your local Roeland Park plumber, All-n-One Plumbing understands the unique drain and sewer needs of our community. We are committed to delivering high quality service and solutions that eliminate your problem at the source! Whether it's clogged drains, broken water heaters, damaged sewer lines, or anything in between – our licensed plumbers will diagnose the issue and present you with the most cost effective solutions.
Our customers enjoy:
Fast turnarounds
Easy scheduling
No-surprise pricing
Tailored solutions
No mess left behind
Total peace of mind
Reliable Drain Cleaning Services
Our drain cleaning services are 100% safe on your pipes. We do not use harmful chemicals, and our video pipe inspections enable us to perform accurate drain cleaning services that eliminate the source of the problem.
All-n-One Plumbing specializes in hydrojet services. This method of drain cleaning effectively clears out pipe lines blocked by excessive corrosion, grease, and other buildup. High pressure water is blasted into the line, scouring pipe walls clean and leaving your sewer or drain line flowing like new again. No other chemicals are used during this process – just water – so you can be confident in the safety and protection of your plumbing system and home.
Water Heater Repair & Installation
Not sure whether to repair your water heater or completely replace it? In general, if your water heater is 8-1-0 years old and experiencing recurring problems, it may be a good idea to install a new system in its place. Older, inefficient water heaters waste energy and cost you more in repair bills over time.
If you are ready to replace your failing water heater, All-n-One Plumbing is here to help you through the entire process. We will discuss your hot water needs and goals, and determine the correct unit size to meet your household's demands.
Plumbing Solutions in Roeland Park, KS:
Give us a call at 816-886-7600 today to consult with a Roeland Park plumber and schedule an immediate service.
Please visit our reviews page to hear what our customers have to say about us from sites such as: