Your Raytown Plumber
Invest in your plumbing and give yourself peace of mind for years to come. Just call a Raytown plumber at (816) 886-7600 and reach All-n-One Plumbing for quality solutions you can count on. Save on your next service by visiting our coupons page.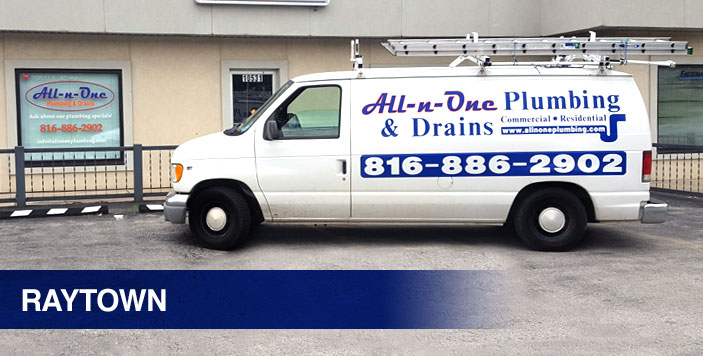 Our team is dedicated to helping you save on your plumbing services while also focusing on providing exceptional customer support as well as top-notch solutions. This dedication to long-term customer care and quality solutions has helped us grow into one of the leading plumbing companies serving Raytown, MO. Let a Raytown plumber help you today.
What Sets Us Apart from Other Plumbers?
Our goal is to help you stay safe, well-informed, and confident in your own home. We are a team of experts with a can-do attitude, which all our All-n-One Plumbing specialists apply to every job.
We know that dealing with a plumbing situation of any kind is stressful; they are often unexpected and tend to happen when we are least prepared. This is why our technicians take the time to provide no-hassle quotes, explain our processes in detail, and present you with honest recommendations that will help you make the right decision for your home.
Stay informed with our No Hassle quotes: Our specialists are happy to visit your home, perform an inspection, and give you a no-hassle quote for repair or service work.
We will never waste your time: Don't worry about late arrivals or no-shows. Our technicians value your time and will arrive promptly, ready to get to work. You can expect fast response and turnaround times, so you can return to your normal routine that much faster!
Fixed right the first time around: Don't worry about us leaving you with more problems than you started out with. We take pride in our work and only carry out solutions that will meet your specific needs. Enjoy quality workmanship from experts who care about your safety and comfort.
Locally owned business: Feel hometown pride when you work with us. We are a local, family-run company in operation since 2007. You can expect to receive personalized service from professionals who take the time to listen to your concerns.
Our technicians are professional and efficient: Our team is committed to providing you with the most cost-effective solutions, as well as providing you with the best customer experience in the area.
Plumbing Solutions in Raytown, MO:
When you need fast, affordable plumbing solutions in Raytown, MO, call (816) 886-7600 to reach the experts with more than a decade of experience. We will send a skilled plumber to your property to quickly assess the situation and provide an effective solution.
Please visit our reviews page to hear what our customers have to say about us from sites such as: