Sump Pump Repair & Replacement
Do you need professional sump pump services? Call (816) 886-7600 now and reach the All-n-One Plumbing team of professionals who are dedicated to solving your sump pump issues. Take a look at our coupons page and save on your next service.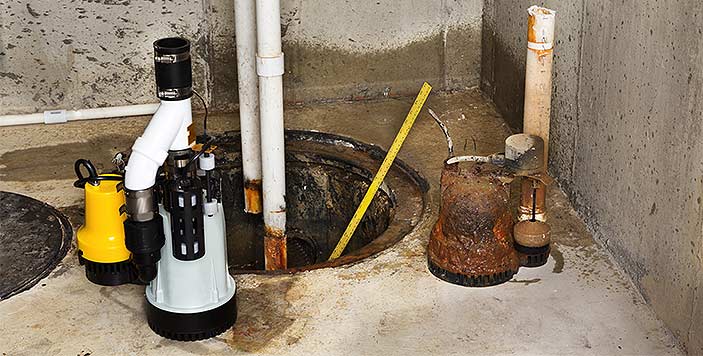 If your home is located in an area of Independence, MO or in the surrounding greater Kansas City area communities where the water table is low, or you own a piece of property which has insufficient drainage to keep your basement safe, then a sump pump is the perfect solution to protecting your property. At All-n-One Plumbing, we are happy to offer efficient sump pump repair and replacement services to help provide you with peace of mind.
If you have been thinking of installing a sump pump, or if you have an existing system that is not working as efficiently as it once did, give us a call today for service.
Take a look at the reviews from our most recent satisfied customers!
Why Install a Sump Pump?
Periods of heavy rainfall and spring thaws can devastate homes that are not protected by sump pumps. A sump pump protects your home from flooding, but also discourages mold and mildew from forming by eliminating excess moisture; sump pumps can even help protect your home's foundation by diminishing external pressure caused by water in the ground around your home.
Why Has Your Sump Pump Stopped Working?
We offer sump pump repair services year-round because we know that your system could malfunction at any time, as it is a heavily used piece of technical equipment with many moving parts. In some cases, the issues may be electrical, but clogs could also be causing poor filtration in your sump pit, in which case we can perform cleaning services to rid your pipes of the buildup or sediment.
More Reasons to Work With Us
Local, family-run company: As a family-owned business, we understand that keeping your loved ones safe is your number one priority. Our team goes above and beyond to ensure your complete peace of mind after every job.
Up Front quotes to help you make the right choice: Never worry about pushy salespeople when you work with us; our technicians are happy to provide no-obligation quotes.
Prompt, speedy solutions: Our technicians are always on time and will be prepared to start working and keep going until the job is complete.
All work is protected by warranty: If something goes wrong within the warranty period, we will remedy the situation without any hassle on your part.
Never worry about plumbing issues again by relying on our team of specialists to help you keep your pipes flowing and your home safe and sound. Call (816) 886-7600 today for speedy service in Independence, MO.
Your experts in Bathroom Remodeling, Drain Cleaning Services, Gas Line Installation & Repair, Hydrojetting, Kitchen Plumbing, Repiping, Sewer Line Repair, Sump Pumps, Toilet Installation & Repair, Video-Plumbing Inspection & Sewer Inspection, and Water Heater Services.
Please visit our reviews page to hear what our customers have to say about us from sites such as: