Your Grandview Plumber
Get plumbing solutions that you can rely on when you call your Grandview Plumber (816) 886-7600. At All-n-One Plumbing your experience is what matters most, so pick up the phone for quick, reliable service today. Hang on to more of your savings by taking advantage of the specials available on our coupons page.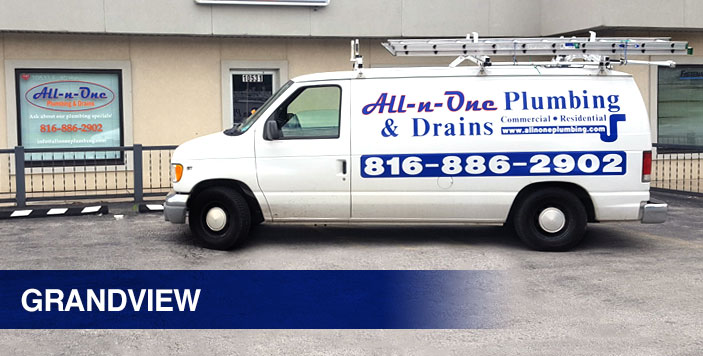 You're Grandview plumber is happy to visit your home and help you solve all manner of plumbing issues. From unclogging a pesky recurring drain, to providing hydrojetting service, to replacing an entire toilet, you can always rely on us to provide you with excellent customer service, free estimates on our work, and fair, competitive pricing. We always want you to make the best choice: The All-n-One Plumbing choice.
Let Us Solve Your Issues
Our team is dedicated to providing the best plumbing solutions in Grandview, MO because that's what our business was founded on. Our owner began this business in 2007 with a strong emphasis on the best customer experience possible, as well as providing hassle-free quotes and speedy, reliable plumbing solutions for all. Since then, our business and client base has only grown due to this commitment.
Here are a few more reasons why you should consider choosing us:
Our customers are a top priority: Our focus is on your experience and offering the best service we can with every visit.
Expect speedy service: Our technicians won't keep you waiting and will work as quickly as possible to help you get back to your day-to-day routine.
We offer Up Front estimates: Call us out to your house and get a, no-hassle estimate for service before we start working.
We're professional and courteous: Our commitment to your experience means we will go out of our way to find personalized solutions to all of your plumbing issues.
Free follow-ups: If we can't fix it on the first visit we will happily return to finish the job free of charge as long as it is still under warranty.
Up-front drain cleaning prices: Do you need your drain augered? We will provide pricing estimates in advance, with NO surprise fees! Tired of other companies promising you a $99 drain cleaning, but ending up with a $300 bill? Call All-n-One Plumbing to auger your drain at a rate you can trust.
Plumbing Solutions in Grandview, MO:
Our team of plumbers is dedicated to providing the best solutions for the residents of Grandview, MO – and it shows with every job we do! Call (816) 886-7600 for unparalleled plumbing services today.
Please visit our reviews page to hear what our customers have to say about us from sites such as: