Bathroom Remodeling & Renovation
Build the bathroom of your dreams or work on a bathroom remodeling project with help from our team of specialists. At All-n-One Plumbing we're dedicated to customer service, so call (816) 886-7600 today. Are you concerned about costs? We understand, which is why we encourage you to take a look at our coupons page for the latest specials!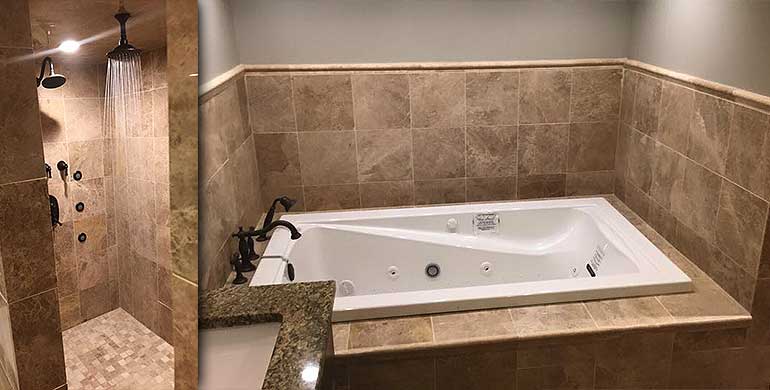 For many homeowners in Independence, MO, and the Greater Kansas City area renovating or bathroom remodeling is one of the easiest and most cost-effective ways to improve the look and resale value of their home. This exciting process offers many benefits, and at All-n-One Plumbing we want to help you create your dream bathroom while making sure that your plumbing is installed correctly and complies with state safety codes.
Why Shouldn't You DIY Your Bathroom Plumbing?
Many "professionals" online will claim that installing your own bathroom plumbing is as easy as can be, but what most of these individuals leave out is that making even a single small mistake can have expensive and stressful ramifications.
When you install your plumbing on your own, not only are you likely voiding your home's insurance policy, but you are also setting yourself up to potentially deal with issues such as burst pipes, clogs, leaks, and other problems stemming from installing your pipes too close to your electrical system.
Instead, depend on the experts at All-n-One Plumbing to help you with your bathroom remodeling the right way from the start.
Here's Why We Should Work Together
Working with our team of qualified experts does more than just give you peace of mind. You also get to enjoy these benefits as well:
 Quote available: Our technicians are happy to bid on the work before you make a decision because we know that being confident in the choice you make is important.
Put your trust in our professionals: Our team is committed to providing the best customer experience possible, and to developing personalized solutions for your bathroom remodeling.
All our work is backed by warranty: Warranties vary depending on the type of service, but if something goes wrong during that period, we're happy to return and do our best to remedy the situation.
We're family owned and operated: This means you can put your trust in a local, family-run business that has been serving your community since 2007.
Turn your old bathroom into your favorite place in the house by relying on our services. We're ready to provide expert bathroom remodeling to all our customers in Independence, MO, so call (816) 886-7600 today.
Your experts in Bathroom Remodeling, Drain Cleaning Services, Gas Line Installation & Repair, Hydrojetting, Kitchen Plumbing, Repiping, Sewer Line Repair, Sump Pumps, Toilet Installation & Repair, Video-Plumbing Inspection & Sewer Inspection, and Water Heater Services.
Please visit our reviews page to hear what our customers have to say about us from sites such as: