Leawood Plumber – Reliable Service
Are you looking for a reliable Leawood, KS plumber? We're glad you stopped by! Call now at 816-886-7600 to discuss your current plumbing needs.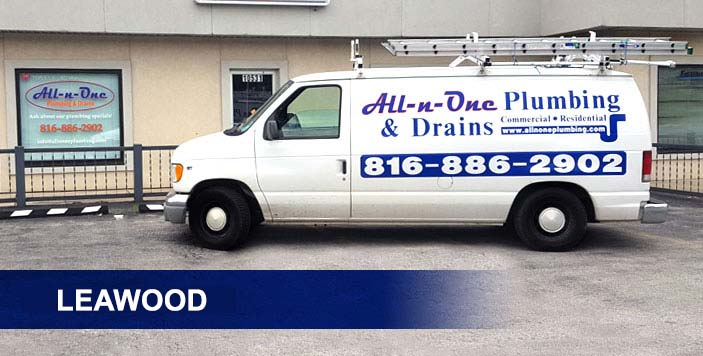 For a homeowner, there is nothing more frustrating than an unexpected plumbing problem. At All-n-One Plumbing we know you are busy and can't afford to waste time looking for a dependable Leawood plumber. That's why we are committed to providing fast solutions that are carried out using safe methods.
Our customers enjoy:
No-surprise pricing
Honest recommendations
Tailored solutions
No mess left behind
Total peace of mind
When you work with us you can expect hassle-free service at a great value. We take the time to listen to your concerns and develop solutions based on your goals and specific plumbing needs.
Efficient Drain Cleaning Services
Are you dealing with constant drain problems? Get a professional inspection when you call All-n-One Plumbing. We carry out video camera inspections to locate the blockage and any other existing pipe problems.
If you have older pipes suffering from extreme buildup, we may recommend hydrojetting service. This highly effective service uses high pressure water to scour pipe walls clear of corrosion, grease, and other buildup. Give us a call to find out if hydrojetting is the right solution to your drain problem.
Water Heater Repair & Installation
Wondering if you should repair or replace your water heater? Let us inspect your system to identify the source of the problem and present you with the best course of action. We make every effort to provide repairs to keep costs reasonable for you.
If you need to replace your water heater, we will guide you through the entire installation process – from choosing the best system to making sure your new unit is working properly right after installation.
Plumbing Solutions in Leawood, KS:
Give us a call at 816-886-7600 now to schedule immediate plumbing service in Leawood, KS and surrounding areas.
Please visit our reviews page to hear what our customers have to say about us from sites such as: