Overland Park Plumber – Reliable Service
Getting frustrated with your plumbing? Stop the problems with one call to All-n-One Plumbing at 816-886-7600 and schedule an Overland Park plumber to help you today.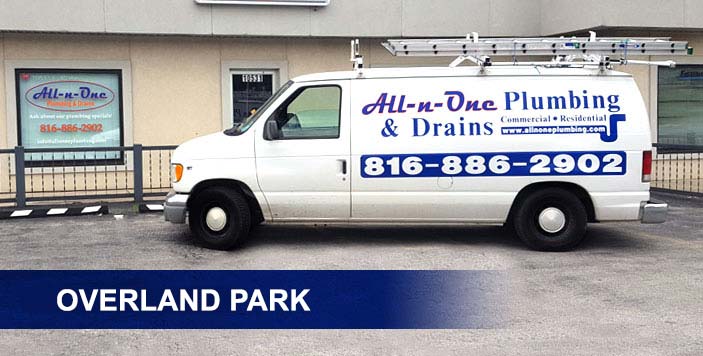 There is nothing more inconvenient than coming home to a burst pipe or a leaking water heater. Sometimes, in the case of a leaking water heater, the problem can become disastrous!
At All-n-One Plumbing we are committed to resolving your toughest plumbing problems using safe, proven methods. All of our services are carried out using the latest technology and techniques designed to keep your pipes and your home safe.
Our customers in Overland Park, KS enjoy:
Fast turnarounds
No-surprise pricing
No mess left behind
Personal attention
Tailored solutions
Total peace of mind
When you work with us you can be confident in hassle-free service from start to finish. Our goal is to deliver the right solution at the best value, so you can return to your normal routine as quickly as possible.
Drain Cleaning Done Right
If you are struggling with frequently blocked drains, put down the commercial drain cleaner and plunger. These are short term solutions and do nothing more than prolong the problem. When clogged drains are common in your household, get a professional inspection to get to the bottom of the issue. All-n-One Plumbing performs accurate video pipe inspections that allow us to pinpoint the problem and recommend the right course of action.
For extreme buildup in your pipes, this can be effectively cleared away with hydrojetting. This service scours pipe walls clean of corrosion, grease, and other buildup blocking your sewer and drain line. Only high pressure water is used, never any chemicals, so your pipes are 100% safe.
Plumbing Solutions in Overland Park, KS:
Call 816-886-7600 today to discuss your plumbing problem with our experts in Overland Park, KS. Your problem is our priority!
Please visit our reviews page to hear what our customers have to say about us from sites such as: