Blue Springs Plumber – Reliable Services
Work with the trusted professionals at All-n-One Plumbing when you call (816) 886-7600. A Blue Springs Plumber is ready to help, so call now. Are costs a concern? No problem – take a look at our coupons page and learn how you can save.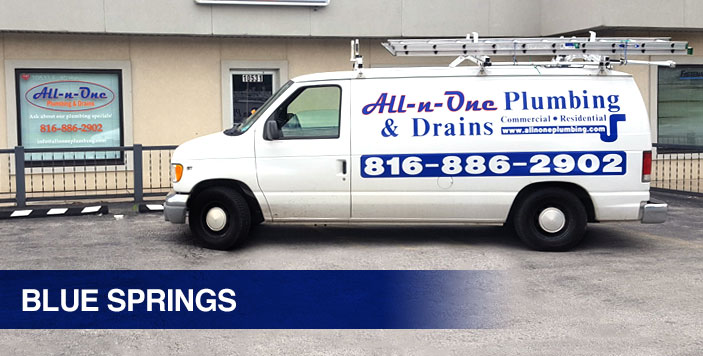 Have you been searching for reliable plumbing technicians to help you maintain the status of your home's plumbing system? If so, give us a call for timely repairs and inspection services. Our team of dedicated specialists is happy to visit your Blue Springs, MO home and help with all manner of plumbing issues. From clogged toilets to hydrojetting services to sump pump repairs, you can count on us for all of your plumbing needs.
Why Work With Us?
Our team has been providing expert plumbing solutions to your friends and neighbors in Blue Springs since 2007, which means we have nearly a decade worth of hands-on experience delivering quality solutions to our customers.
When you work with us you don't just get experienced professionals; you also get to enjoy the benefits of working with a company who puts your needs first. Our commitment to customer satisfaction is one of the reasons our customers choose us every time, because they know that we are focused on providing them with a pleasant and hassle-free experience. These commitments show not just in the work that we do, but in the approachable and can-do attitude our specialists bring to every job.
Here are a few more reasons why your neighbors choose to work with us:
Up Front estimates: We're happy to put in a bid before the work begins so you can make the most well-informed choice possible.
We're committed to your experience: Meeting people from all walks of life and helping them solve their plumbing problems is our favorite part of the job, and it shows! You can expect to receive the personal attention you deserve.
Get professional service every time: The technicians at All-n-One Plumbing are focused on providing you with the best experience possible – every time. We arrive on time, in clean uniform, and are prepared to get right to work. But we won't carry out a job without first discussing the pricing and details, and we will never make any changes to your plumbing without your authorization.
All of our work is backed by warranty: This means you can rest a little easier knowing that you can call us back to fix the issue if something goes wrong.
Plumbing Solutions in Blue Springs, MO:
Our plumbing services in Blue Springs, MO can't be beat! Pick up the phone and call (816) 886-7600 for trustworthy service backed by over a decade of experience.
Please visit our reviews page to hear what our customers have to say about us from sites such as: