Water Line Services | Copper | PEX Repiping
Don't let the quality of your pipes suffer. Water Line Services | Copper |PEX Repiping. Call All-n-One plumbing at (816) 886-7600. Call (816) 886-7600 and reach out for high-quality repiping solutions. Discover the savings available to you by visiting our coupons page.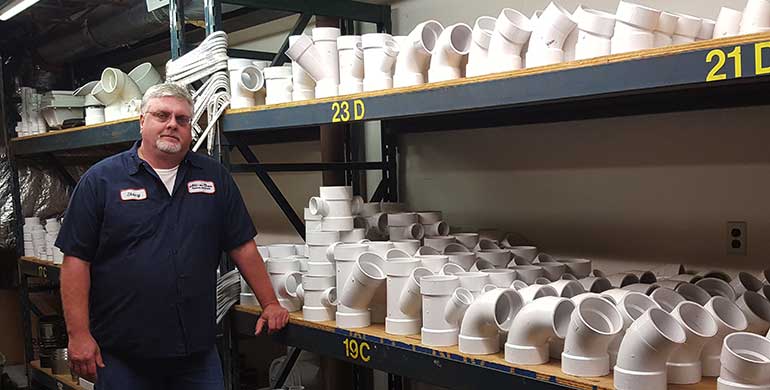 No matter how well-maintained your pipes are, eventually they will begin to wear out and show signs of aging to the point where repairs simply won't cut it anymore. When this happens, you can count on your All-n-One Plumbing technician to provide you with cost-effective and high-quality repiping services. Depending on the severity of the issue, we can either repipe a problem area or assist you in the task of repiping your entire home in Independence, MO.
Ask us about how our commitment to your customer experience sets us apart, or take a moment to visit our reviews page to see what our other satisfied customers are saying about our work.
Is It Time to Repipe? Here's How You Can Tell
If you have a sneaking feeling that it may be time to invest in repiping services, the easiest way to tell is to schedule an inspection from an All-n-One Plumbing specialist. We are happy to provide you with a free quote for service and will explain what needs to be done.
Here are a few signs that it's time to give us a call for professional repiping:
Your water has changed color
You have noticed a drop in your water pressure
Your water suddenly smells foul or unpleasant
Your water bills have been going up, but you don't know why
Need More Reasons to Choose Us?
Choosing the right plumbing company shouldn't feel overwhelming. We take care of our customers and make sure you receive a hassle-free experience from start to finish.
Local experts at your service: We are locally owned and operated and do our best to give back to our community by providing expert plumbing services. Expect personalized solutions tailored to meet your specific needs!
Friendly specialists: Our commitment to your safety and exceptional customer service are reflected in the friendly attitudes of our plumbers. We have the technical skills and passion for customer service to give you an unparalleled experience.
All our work is backed by warranty: We are confident in the work we carry out. If problems occur within the warranty period, we will remedy the situation without any hassle on your part.
No-hassle quotes: Our plumbers are happy to provide you with a quote, so you can make an informed decision.
We want to help you keep your plumbing pipes in perfect working order. Just call (816) 886-7600 and reach a team of dedicated professionals offering outstanding service in Independence, MO and the greater Kansas City area.
Your experts in Bathroom Remodeling, Drain Cleaning Services, Gas Line Installation & Repair, Hydrojetting, Kitchen Plumbing, Repiping, Sewer Line Repair, Sump Pumps, Toilet Installation & Repair, Video-Plumbing Inspection & Sewer Inspection, and Water Heater Services.
Please visit our reviews page to hear what our customers have to say about us from sites such as: