Your Liberty Plumber
Work with a Liberty plumber who have been providing expert solutions since 2007. At All-n-One Plumbing our focus is on you, the customer, so call (816) 886-7600 for speedy service. While you're here, make sure to take a moment to visit our coupons page and learn about the variety of savings opportunities available to you.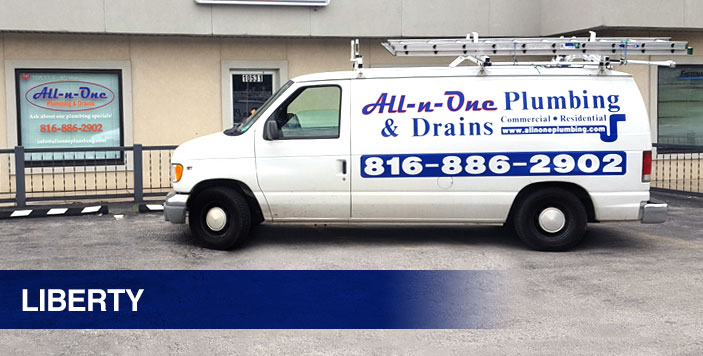 Is it time to find a new plumber in Liberty, MO? Choose the family-owned and operated business that has been keeping the plumbing in your friends' and neighbor's homes running perfectly for more than a decade. All-n-One Plumbing was founded on the idea that quality plumbing solutions don't have to come with a hefty price tag, or at the expense of good customer service. Call a Liberty plumber at 816-866-7600 today.
Why Choose Us?
We know there are lots of plumbing companies out there vying for your work, but we believe that our commitment to your experience, and to being upfront and honest with everything that we do, is what sets us apart. Our specialists are never pushy or overbearing. We are happy to explain everything that needs to be done so you can have the greatest peace of mind possible.
If there is an issue, we are happy to return and fix it again if it's under warranty. In instances where repairs cannot be performed or the issue can't be resolved, we may be able to refund your money.
Here are a few more reasons to work with us:
No Hassle, upfront quotes: We're happy to provide you with a competitive quote for services before the work starts so that you can make an informed choice.
Local expertise you can trust: We're locally-owned and operated, which means we understand the unique challenges faced by our neighbors and colleagues.
Return to your routine ASAP: We pride ourselves on offering quick solutions, so you can expect us to arrive promptly and work quickly and efficiently so you can return to your normal routine as quickly as possible.
Professional service since 2007: We make sure to hire plumbing specialists who are skilled, qualified, and who have a dedication to customer service.
Family owned and operated: Feel confident in supporting local businesses, and know that because we're neighbors we have your best interests at heart.
Plumbing Solutions in Liberty, MO:
Get reliable plumbing services from a local company who cares about your experience. Give us a call at (816) 886-7600 and enjoy hassle-free customer service in Liberty, MO.
Please visit our reviews page to hear what our customers have to say about us from sites such as: