Kansas City Plumber Residential Plumbing
Looking for a trusted Kansas City plumber? Call us at 816-886-7600 now to schedule an immediate service with All-n-One Plumbing.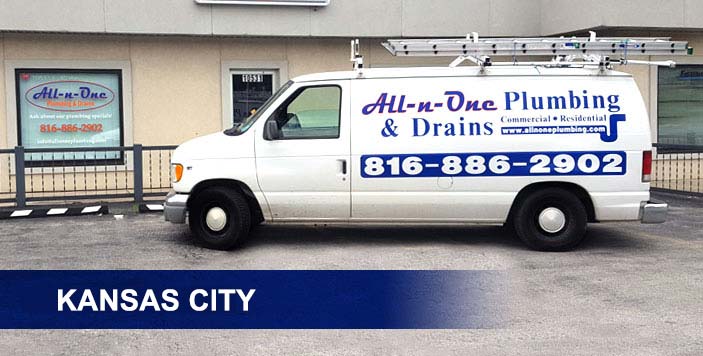 There is nothing more frustrating than coming home to a plumbing problem. At All-n-One Plumbing, we know you are busy homeowners who are looking for fast solutions. That's why we provide quick response times and turnarounds – all at a great value for our Kansas City, KS customers.
When you work with us, you can expect:
No-surprise pricing
No mess left behind
Accurate diagnosis
Tailored solutions
Total peace of mind
Our customers enjoy hassle-free estimates on plumbing service such as drain cleaning, water heater repair, sewer line replacement, and more. We are a full-service plumbing company that works with your best interests in mind!
Safe Drain Cleaning Solutions
If you are experiencing recurring drain problems, give us a call to diagnose the issue. We use the latest technology to resolve your drain problems, including accurate video pipe inspection. Depending on the extent of the issue we will either recommend drain snaking or hydrojetting.
As plumbers specializing in hydrojetting, we are able to thoroughly clear your drain line using high pressure water. This service scours pipe walls clean, scraping away grease, corrosion, and years of buildup. Give us a call to find out if hydrojetting is the right solution to your drain problem.
Water Heater Services
Not getting the hot water you need? Get your water heater inspected by one of our specialists. We will help you determine if repair or replacement is more cost efficient. In general, if your water heater is 8-12 years old and exhibiting frequent problems, it may be time to look for a new water heater. Our experts will guide you through the entire replacement process, from finding the right product to installing it properly and making sure it works efficiently right from the start.
Plumbing Solutions in Kansas City, KS:
Get reliable plumbing services in Kansas City, KS when you call 816-886-7600.
Please visit our reviews page to hear what our customers have to say about us from sites such as: