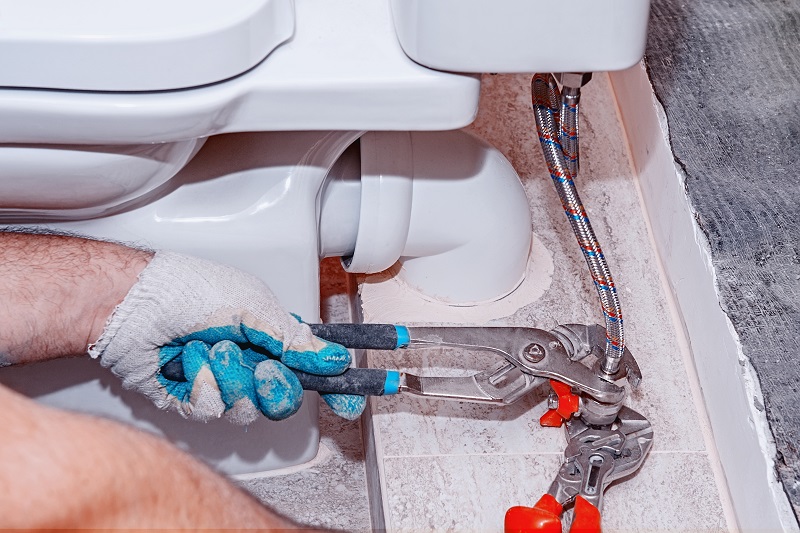 Professional Toilet Installation and Toilet Repair
Toilet installation is not an especially time-consuming job, but it does require physical exertion and a fair amount of expertise. As with most plumbing jobs, there are complex factors involved in toilet installation. Many mistakes that lead to toilet repairs can be avoided by relying on a professional plumber for toilet installation. Even a small misstep, such as misaligning the toilet on the wax ring, can lead to toilet leaks.
Some people may think that toilet installation in their own bathroom is easy. What they may not realize is that making even a single small mistake can result in an expensive toilet repair. In addition, when homeowner's do their own toilet installation (or any other plumbing) it could possibly void the manufacturer's warranty. In some extreme circumstances, a home owner's policy will not pay out if they learn that damage was caused by an unlicensed person completing a plumbing project, no matter how small.
Furthermore, an untrained person working on plumbing fixtures can turn a small problem into something much larger, possibly causing burst pipes, clogs, or leaks. The most common problem specifically related to incorrect toilet installation is leaking. Toilet leaks are often visible, indicating the need for a plumbing professional. At times though, toilet leaks can take place within the floor, unseen until the repairs are extensive and costly.
Whether you're replacing a toilet in a home you just purchased, upgrading your toilet to a newer, more efficient water-saving model, replacing a broken unit or renovating a bathroom, toilet installation should be done right to avoid costly toilet repair and damaging leaks.
Removing The Old Toilet
Obviously, before the new toilet installation, the old toilet has to be removed. While not a particularly difficult process, it does require proper preparation – protecting the floors from residual water that gets out, for example. Making sure the water supply valve is turned off and then carefully removing the unit from the flange without damage also requires careful attention. When the flange is rusted or damaged, a licensed professional will need to assess the repair.
Installing The New Toilet
In addition to making sure the wax ring is the right size, it must be handled very carefully. The plumber will set the new toilet bowl in place, pressing it into the compound, and fasten the toilet bowl to the flange with nuts and bolts that are designed for that specific purpose. Importantly, the plumber will then make sure that the toilet bowl is level with no rocking. If you notice leaking between the toilet base and floor, it's likely the wax ring needs replacing.
Assembly of the toilet tank involves placing a gasket – and sometimes a rubber cushion – between the tank and the bowl. Fastening the bolts that hold the tank must be done carefully to prevent damage to the porcelain while still keeping the tank watertight and stable to prevent leaking.
The inner tank components require close attention. These include the flapper valve, float ball, ballcock, and other essential parts. Once the inner components have been installed, the water line is carefully reconnected and turned back on to fill the tank.
Checking For Leaks
Leaks can occur in any number of places after toilet installation, so the plumber needs to thoroughly inspect the connections the plumber made, and also the manufacturer's connections for leaks. The water level in the tank will be properly set, then the toilet flushed a few times to make sure it's working properly.
The bolts holding the toilet to the flange are checked again to make sure they are tight and there is no wobbling once the wax gasket settles. Bolts that are too long can be cut down. The final step is attaching the toilet seat and cleaning up.
We realize this may seem like a fairly simple, straightforward task to some people. Keep in mind, however, that an inept plumbing job of any type can result in leaks. When it's the toilet, it can be especially aggravating. A professional plumber has the skill and expertise to handle new toilet installation with ease and accuracy, and best of all, the work is guaranteed!
Toilet installation and toilet repair are just part of the services offered by All-n-One Plumbing. If you are renovating or doing some bathroom remodeling, one of the easiest and most cost-effective ways to improve the look and resale value of your home is to install new toilets. Our specialists can make sure your plumbing is installed correctly and complies with state safety codes. We've been helping homeowners just like you since 2007, and we're ready to work for you.
Our specialists can make sure your plumbing is installed correctly and complies with state safety codes. We've been helping homeowners just like you since 2007, and we're ready to work for you.
At All-n-One Plumbing, we can help you build the bathroom of your dreams or work on a bathroom remodeling project.