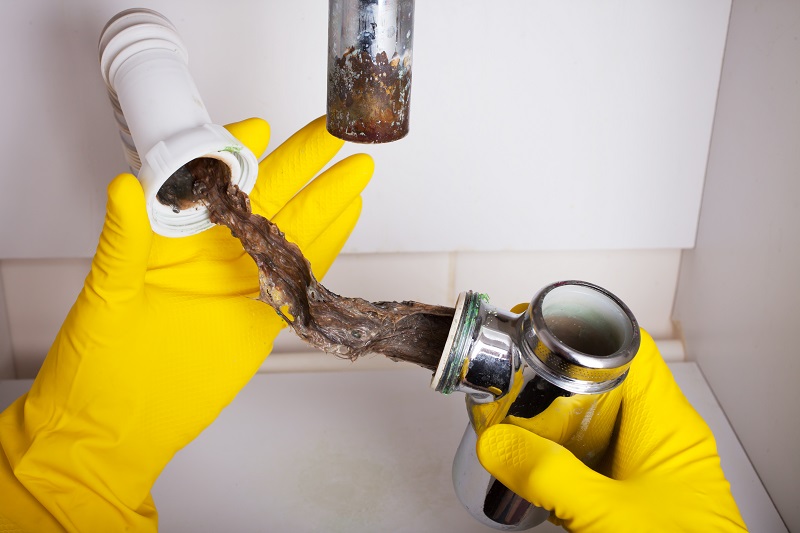 Drain clogs are among the most common issues that homeowners experience. Unfortunately, many of us do not pay close enough attention to what gets washed down the drains. Over time, clogs can form, leading to larger issues. These are times when you need professional drain cleaning to clear the lines and help prevent future problems. 
Obvious signs that indicate drain cleaning is needed are:
The 

toilet

 isn't flushing properly

Tubs, sinks, toilets and showers take longer to drain

Water is backing up into floor drains 

The kitchen sink is backed up

A 

foul odor

 is coming up through the drains 
Clogs in sinks, tubs, and showers are from hair or other foreign objects that accumulate at the drain. Washing machines often tie together with the kitchen sink line; therefore, they can become clogged with a combination of lint, food, and grease. Finally, toilets generally make a direct connection to the main sewage lines that moves wastewater from your house to the main city sewer line. As such, a main line back-up is often evidenced by a back-up when you flush your toilets. Drain issues can happen anywhere in the plumbing system and can be tricky to diagnose depending on the setup of your home. Simple toilet clogs can sometimes be remedied with a plunger. You may also be able to remedy a clogged sink with a simple, plastic drain snake. Past simple, straight-forward clogs, you should always call a professional clogged drain plumber to help diagnose and service the problem. 
Preventing clogs in the first place is always the best solution. Using the garbage disposal properly, for example, can prevent a clogged sink. Food scraps should always be scraped into the trash, then the plate may be rinsed over the disposal. Meat and grease, lemons, noodles, and potato peelings are some examples of food products that should not be put down the disposal. Solid materials should not go down the tub, shower, or bathroom sink. Furthermore, a simple drain strainer cover can help catch hair and prevent clogs. 
One of the most important steps you can take for drain line maintenance is to care for your main sewer line. Some main lines accumulate roots in the joints and require regular main line maintenance, generally on an annual basis. Without routine root removal, the roots can infiltrate the line and impede regular use. Best case scenario at that point is that the drain is augered and regular use is resumed. Worst case is that the roots are impacted to the point where they cannot be penetrated or removed. They may also create cracks, breaks, holes, or other compromises in the pipes which require repair. In this case, the drain line has to be excavated and repaired or replaced. Though older drain lines may still need a sewer repair or replacement at some point, regular maintenance can extend the life of a main line by years in many cases. 
If you are experiencing ongoing problems with your main sewer line, it may be wise to schedule for a camera inspection. Our camera and locate technology, along with our experienced technicians, can pinpoint your exact problem. You may be experiencing symptoms from a belly in the drain, a collapsed pipe, rough patches, roots, or one of a variety of other problems. Our experienced camera inspection technicians will show you the problem in real-time and provide you with the best solutions. Because we believe in honesty and integrity above all else, our technicians will always inform you of your options, including performing regular maintenance, rather than a sewer replacement or repair. They will also notify you if your line appears to be in good working condition without need of further work at this time. It is not our goal to sell you a service, it is our goal to provide you with information, so that you may make the best decision for your circumstances. If you do find yourself in need of a service you can't quite afford, we will always work with you to provide financing through our partner, GreenSky Financing. 
Choosing All-n-One Plumbing for drain cleaning ensures a qualified plumbing specialist will clean your drains. Additional customer benefits are: 
Our Guarantee: If you experience an issue during our warranty period, then your All-n-One Plumbing specialist will return to fix the problem without any hassle.
Friendly Service: Our team understands that customer service is the cornerstone of our business, and we will find solutions that work for you.
Quick Results: We know your time is valuable, which is why we arrive on time and work to resolve your issue as quickly as we can. 
Honest Assessments: You can always rely on our technicians to give you their honest assessment of your plumbing needs. Our technicians will never sell you a service you don't need, and they will always help you find the best solution for your situation. Our customers and our reputation are our priorities! 
Our team is dedicated to keeping your drains clean and clear, so why wait? Call (816) 886-7600 today and get reliable drain cleaning solutions you can trust in Independence, MO and the Kansas City Metro.