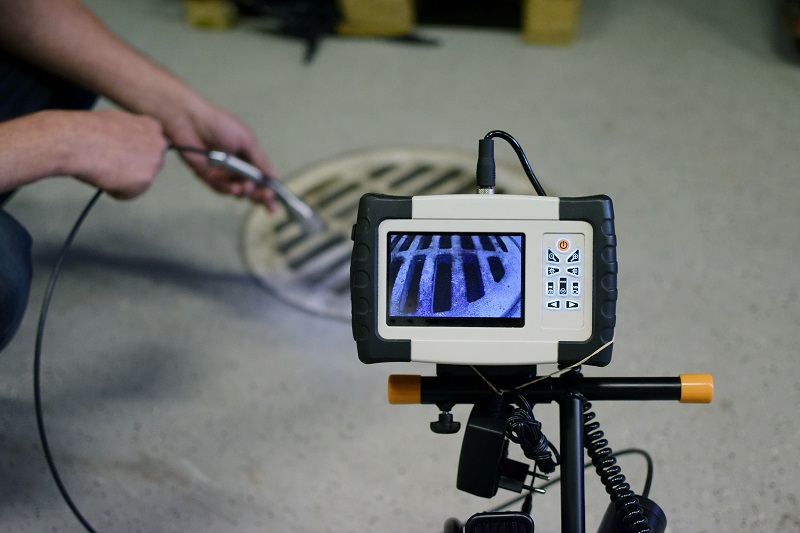 A Sewer Inspection Identifies Sewer Line Problems
A sewer inspection is necessary for the accurate detection of existing sewer line problems. An increasingly popular option for detecting sewer line problems is the use of a sewer video camera. The process of scoping a sewer line allows a trained technician to pinpoint problem areas within your sewer system. With this information, our technician can provide you with options for spot repairs, clean-out installations, or sewer line replacements, if needed. Additionally, he can also give your sewer line a clean inspection report for the sale of your property!
In addition to detecting sewer line blockages or foreign objects that are causing clogs, a sewer line video inspection can reveal cracks, corroded sections of pipe, root infiltration, weakened, leaking joints, and broken pipes. It also can see if there are offset pipes that have shifted due to frozen ground, settling, or landscaping.
Using these specially designed cameras, plumbing specialists are able to get a better understanding of what is causing your sewer line problems. Our high-resolution, color monitors allow you, the homeowner, to see the same image as the plumber; therefore, he can explain the problem areas in real time. It makes the job of providing the best solutions for customers that much easier while avoiding costly sewer repairs you don't actually need.
The Basic Process
The camera is inserted into the sewer line through the cleanout

A live feed is projected from inside the sewer line to the monitor

The camera is inserted further down the line to a maximum of 200 feet.

Problem areas are located using specialty equipment above ground

 
Causes and Prevention of Future Blockages
Blockages in sewer lines are messy and can be very costly to identify and repair. Common causes of damaged sewers are cracks or joint separation from root intrusion, age-related issues of cast or clay tile pipes, and collapsed pipes. Cameras give a clear picture of what is going on inside the sewer pipe and identify the area that needs repair. Finally, a camera inspection can pinpoint the type, location, and severity of the damage, so the technician can bid for only the repairs actually needed. Our technicians will give you options to best suit your needs and situation. We will never attempt to sell you a repair you don't need!
Who Needs A Sewer Inspection?
Anyone who is experiencing ongoing issues with clogged main sewer lines, including main line back-ups, needs a sewer inspection. Additionally, realtors and prospective homeowners often request a sewer inspection when buying a home, especially if it's an older home. A great selling point would be a pre-emptive sewer inspection with a report stating that the existing sewer line is in good, working condition.
Sewer Line Repair and Drain Cleaning
Are you convinced that a sewer line inspection using a sewer camera is the right way to determine what is causing ongoing main line problems and stoppages? If so, then don't hesitate to call us. Our expert plumbers can go to work for you right away, ensuring your sewer line inspection is done right.
Our specialists are trained to use sewer inspection cameras to help us get a better understanding of what is causing your plumbing issues while saving you time and money. It's our job to provide the best sewer line inspection available in the Kansas City Metro area, including Independence, MO. Your friends and colleagues have been relying on us for plumbing video inspection services since 2007. When you're looking for quality, guaranteed work, call All-In-One Plumbing.
ALL-N-ONE PLUMBING
816-886-7600