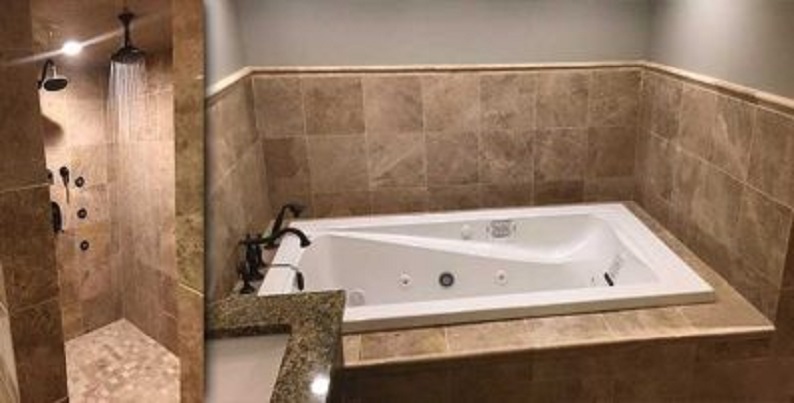 Bathroom Remodeling After The Holidays
Bathroom remodeling may not have been a consideration before the holiday guests arrived, but after experiencing the inconvenience of a too-small bathroom it is probably on your to-do list now. If you are doing the work yourself or if you need help from the pros, All-n-One Plumbing can help.
When someone is determined to do a major overhaul of the bathroom it can be a perfect opportunity to improve the plumbing, especially if you have an older home with outdated and worn out plumbing.
Plumbing modifications should be planned out in detail before you do anything else. To make sure you get it right, you may want to talk to a licensed plumber. There are a number of steps and tasks involved in bathroom remodeling. It can be the relatively simple job of removing old fixtures and attaching the plumbing connections for new ones or can be as complex as making important design decisions about flooring and sink styles. Keep in mind these few considerations for bathroom remodeling:
Relocating Fixtures
While relocating the fixtures will add more time and expense to the bathroom remodeling project, it can be worth it. However, it may not be something you can DIY – transferring a toilet requires refitting the pipes making sure it doesn't interfere with the floor's foundation. Vents must also be moved or changed and the bathroom walls may need to be taken out for proper positioning of the vent. You may want to consult with an experienced plumber.
Drain Size Matters
Particularly if you have had problems with clogged drains caused by having a small drainage size, you may need to make a larger opening. A small drain size makes it more likely that buildup from soap scum, hair and other waste can cause clogs. Enlarging the drain will help prevent future clogging.
Hidden vs Exposed Plumbing
In some older homes that were built before indoor plumbing was the norm it was not unusual for the plumbing that was added on later to appear on the outside of the ceiling or walls. Bathroom remodeling can easily fix this issue. It's a personal preference, but if you're planning to sell your home, you should consider that future homeowners might not want to see unsightly pipes sticking out of the walls. Concealing the pipes will give a cleaner, modern look.
Shower Style
If you're replacing a tub/shower combination with a separate shower unit you should be aware that it is a tough job that needs to be installed properly. For one thing, it needs a sloped shower base and that requires that the floor be removed before placing the shower base in order to attach it. Improper installation will result in water deposits all over the bathroom which can in time cause water damage to floors, walls and ceilings.
Upgrading Fixtures
If you have older outdated faucets, showerheads, and toilets you are probably planning to upgrade to more modern, attractive fixtures. Doing this can also be economically feasible as newer toilets, for example, use less water and cut utility bills. Plus, they just look better. Leaving the old fixtures is going to detract from the new look you're going for.
Replacing Pipes
You may not have given any thought to taking advantage of the bathroom remodeling project to replace the piping, but we recommend you do. It's not time-consuming or even a difficult task and there are real benefits to replacing the pipes as part of the remodel. If the plumbing system in your home was built before 1970 it probably needs to be replaced.
Removing Walls
If your plan is to enlarge the space then that will involve more expertise than you may have. Taking out studs, knowing which ones are load-bearing, how it affects wiring and pipes within the walls – all are facets to enlarging the space that you should probably leave to the professionals. 
Saving Money
We understand you want to save money by doing the bathroom remodeling yourself. Unfortunately, that isn't always how it turns out; if something goes wrong you may end up paying for professional repairs anyway. Rather than attempting to fix, adjust, or install plumbing parts and fixtures yourself, call on the experience and know-how of professional plumbers who have the ability to get the job done right. It can save you money in the long-term and the work is guaranteed. And the best reason of all to get guaranteed bathroom remodeling after the holidays is so you won't have all the problems that you experienced this year!
All-n-One Plumbing in Independence Does Bathroom Remodeling & Renovations. We're dedicated professionals with many years of experience. o customer service, so call (816) 886-7600 today. Are you concerned about costs? We understand, which is why we encourage you to take a look at our coupons page for the latest specials!