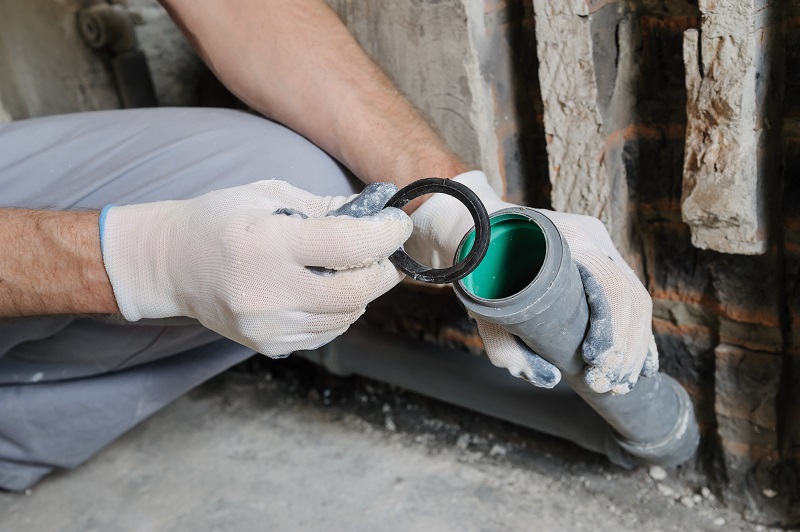 Sewer Line Repair and Sewer Line Replacement
Sewer line repair is a valuable service offered by professional plumbing companies to homeowners and businesses throughout Kansas City, Independence, and surrounding areas. Sewer systems are integral to homes, businesses, and the cities we live in. When it comes to sewer line repair and sewer line replacement services, plumbing specialists provide a valuable service. However, it's important to hire a plumber you can trust, so you are only being sold services you need.
When sewer lines are structurally sound and draining well, it indicates that the plumbing system is functioning properly. Most of us don't even give a thought to whether or not the sewer is in good condition. We assume the drains are working properly, even though costly repairs could be looming. When you notice issues with your sewer system, a call to a trusted, professional plumber can determine whether your drain is in need of a simple auger service or a camera inspection. A thorough camera inspection by a trained technician will determine if your main line is in need of a sewer line repair or sewer line replacement.
Who Needs Sewer Line Repair?
Homeowners, prospective home buyers, real estate companies, and lenders may request a sewer line inspection to check a home's sewer system, especially for older homes. As homes age, so do the sewer pipes, and it is an unrelenting issue that only gets worse as time goes on. Aging can contribute to sewer line repairs for cracked or collapsed pipes, the intrusion of tree roots, and other issues, all of which can lead to the need for sewer line repair, and often sewer line replacement.
Many homes and businesses in Independence and surrounding areas are more than 30 years old. Therefore, the sewer pipes may be made of clay or cast iron, which were considered standard materials at the time they were installed. However, the projected lifespan of 30 to 50 years is inconsistent at best. It is not uncommon for them to crack, corrode, and deteriorate over time, which require spot repairs or even entire sewer line replacements.
Issues with your sewer lines can occur due to a variety of reasons, for example:
Tree Roots: Tree roots often infiltrate sewer lines through joints and any space not air-tight. As the roots grow, they crack and pull apart the pipes.
Aging Pipes: Original sewer lines in older homes can simply be worn-out, causing them to break or begin leaking. Even a small leak

 can magnify over time, causing large cracks or chunks of missing pipe.

Landscaping/3rd Party Damage: Sewer lines can be damaged when homeowners are performing landscaping or renovation work without properly locating their sewer line first. Likewise, puncture holes or compression could be caused by crews working on their specific lines without knowledge of the location of the home owner's line. *If you plan to perform any renovation work or landscaping, it's always advisable to have a trained plumber perform a camera/locate service and flag/mark the location of your sewer line.
These are just a few factors that could cause sewer line damage, but the reasons and types of damage are many. Often, our technicians will locate offset pipes, bellies in the line, cracks, breaks, etc. If you are having ongoing issues with your sewer line, our trained technicians can inspect your line, show you the footage in real time on our color monitors, then provide you with a competitive bid for a repair or replacement, if needed. The technician can also give you recommendations for a maintenance schedule if he deems repairs unnecessary at this time.
Cost of Sewer Line Repair and Replacement
There are many factors that go into determining the cost of a sewer line repair or replacement. The three main factors are location, depth, and length.
Location: Our high-tech equipment combined with the experience of our trained technicians can locate the exact location of your sewer line from where it leaves your house to where it meets the city sewer. Some sewer lines run under driveways, some run through neighbor's yards, some even share a community line with their neighbors. Most often, the line will connect directly from the house to the nearest city connection. The only way to know for sure is to use a camera with locating capabilities.
Depth: While some sewer lines are buried at a depth of only 4', some are 8' or even 12' deep. As you can imagine, the deeper a line is buried, the longer it takes to expose, which increases the price. Deeper lines, where the depth of the hole is over the technician's head, may require additional safety equipment. In such cases, all factors will be clearly outlined in your bid.
Length: The length of the repair section directly determines the cost just as much as the other two factors. We will only excavate the section we will be repairing, with an allowance on either side for clean connections. However, if we need to replace the entire line, we will be excavating a trench from the house to the city. The difference could be a 10-15' spot repair or the mainline replacement that could range anywhere from 30-100', sometimes longer, depending on the property.  
For a clear, up-front estimate to repair or replace your sewer line, call us today to schedule a mainline sewer inspection! 
All-n-One Plumbing provides cost-effective, high-quality sewer line services. We are locally owned and operated. We do our best to give back to our community by providing competitive, up-front pricing and personalized solutions tailored to meet your specific needs!
Our commitment to your safety and our exceptional customer service are reflected in the friendly attitudes of our plumbers. All our sewer line services are backed by warranty. We are confident in the work we carry out. If problems occur within the warranty period, we will remedy the situation without any hassle on your part.
Our Guarantee: If you experience an issue during our warranty period, then your All-n-One Plumbing specialist will return to fix the problem without any hassle. Full warranty information is always clearly stated on the back of your invoice!
All-N-One Plumbing
816-886-7600
Service Area Includes:
Missouri 
Kansas