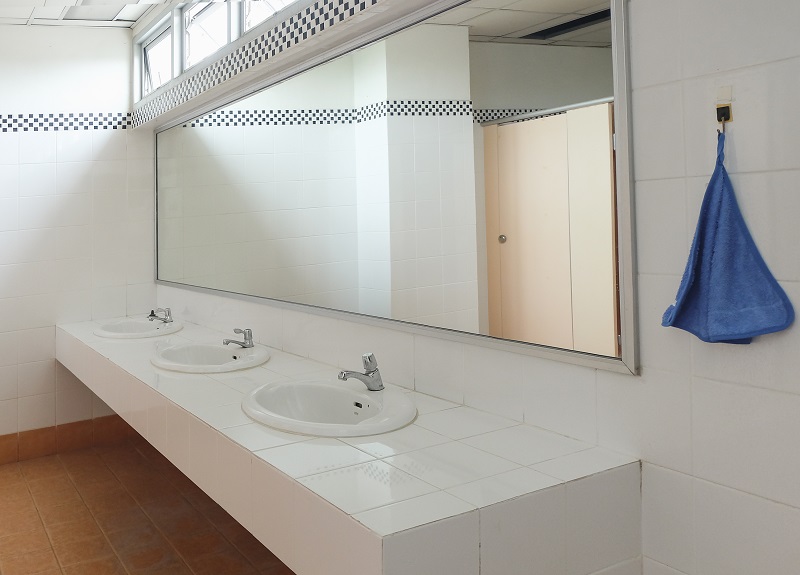 Commercial Plumbing Contractor Service In Independence, Missouri 
Commercial plumbing services include a wide variety of services, including commercial drain repair, water heater installation, and augering of clogged toilets and main sewer lines, just to name a few. In addition to working at existing properties, our commercial plumbing contractors also rough-in new drain lines, water lines, and gas lines for new structures and remodels. We pride our company on providing full-service plumbing, both in residential and commercial industries. Though plumbing jobs in both residential and commercial plumbing follow the same basic rules, there are some differences, which is why a licensed plumbing contractor should always be contacted.
Residential Plumbing Services
A residential plumbing contractor may primarily handle tasks in single-family houses. He will likely be experienced in unclogging a variety of drains and making a number of small repairs, including kitchen sink leak repair, toilet installation, garbage disposal installation, water heater repair or replacement, sewer line inspections, etc. A more experienced plumbing contractor can even diagnose and repair a residential sewer line from start to finish. The residential plumbing contractor is an expert, dealing with similar plumbing issues every day. He may install a water-saving toilet in a bathroom, clean clogged sink drains and repair or replace water heaters almost routinely, while taking care of all the other plumbing needs a home requires on a daily basis. Though our technicians never stop learning on the job, their years of experience aid them in giving you the correct diagnosis and solution to your residential plumbing needs.
Commercial Plumbing Services
Commercial plumbing contractors offer many of the same services as residential but on a larger, more complex scale. Where a residential plumber may clear the main line for a single-family home, a commercial plumber may clear sewer lines for apartment complexes, warehouses, or department stores. A residential plumber may install a 40 or 50-gallon water heater, whereas a commercial plumber may tie together two or three 100 gallon water heaters. These are just a couple of examples, but you can imagine how complex and labor-intensive the commercial plumbing industry can be at times.
Commercial plumbing involves work on multiple-floored properties in break room kitchens, multiple bathrooms, drinking fountains, sprinkler systems, water and sewer lines. The commercial plumbing contractor will troubleshoot and repair a wide variety of problems, like leaking drains and broken water lines. Some commercial plumbers obtain corporate or commercial contracts and work exclusively with businesses.
All-n-One Plumbing Offers Commercial Plumbing Services
Our plumbing contractors perform quality service at homes and businesses around the Greater Kansas City Metro, both in Missouri and Kansas!
Commercial Plumbing Services From All-n-One
Hydrojetting

Drain Replacement

Toilet Repair/Installation

Bathroom Remodeling

Kitchen Plumbing

Faucet Repair/Installation

Frozen Pipes

Water Leaks

Water Heater Repair/Installation

Sewer Line Repair & Replacement

Video Inspection

Sewer Cleaning

24-Hour Plumbing Emergencies
Why You Should Call A Commercial Plumber
Many times, people try to make plumbing repairs or installations themselves, rather than hiring a professional plumber. We understand you may want to save the initial expense of hiring a professional, thinking it will cost less if you do it yourself. However, if a plumbing repair or installation is done incorrectly, it can cause additional plumbing problems and larger expenses overall. This reasoning holds especially true in the commercial industry. Here are several reasons for calling a commercial plumbing contractor when you have plumbing issues:
Proper Plumbing Equipment – A professional plumbing contractor will always have the appropriate equipment for the job.
Expert Solutions – When you call a professional plumber, you will be getting the services of someone who is highly skilled and experienced and can resolve even the most difficult plumbing problems.
Multiple Plumbing Services – Commercial plumbers can provide many different services, including replacing and installing pipes, installing dishwashers and ice makers, repairing water leaks and cleaning drains.
Thorough Inspections – When you hire a commercial plumbing contractor you will get a very detailed diagnostic inspection and report. Plumbers find and address hidden problems that you might not even know to look for or recognize.
Professional Training – Commercial plumbers are licensed and well-trained. They know the best and the most advanced methods for doing the job. This equates to less chance for error than if you do it yourself.
Don't take risks by doing the plumbing work yourself. It's better to find a professional plumber who can do the work right, ultimately saving you time and money.
All-n-One Plumbing provides Commercial Plumbing Services to restaurants, hotels, offices, large housing complexes, schools, factories, hospitals, warehouse, industrial complexes and more throughout the Kansas City metropolitan area. Our contractors are highly skilled and experienced in providing the highest quality commercial plumbing services to homes and businesses alike.
When All-n-One Plumbing was founded, our goal was to provide Kansas City residents and business owners with exceptional customer service and reasonable prices. We provide services to single-family residences and large commercial properties throughout the area. We have worked hard to earn your trust so we can become your go-to plumbing team whenever the unexpected occurs. Our plumbing contractors are licensed and insured to perform commercial plumbing services, providing quality service at affordable prices. When you need dependable plumbing services, give us a call to discuss your needs, and we will help guide you towards the best solution!.
10531 E US Hwy 40
Independence, MO 64055 
COUPONS