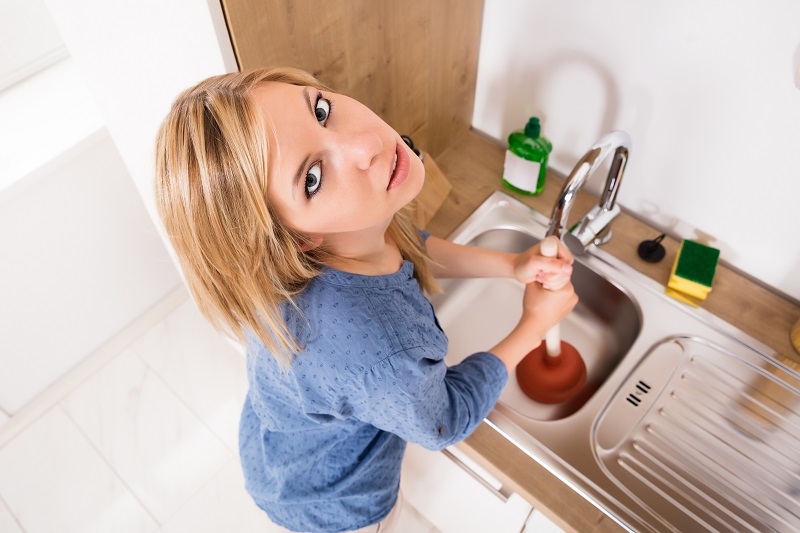 How To Know When It's Time For Garbage Disposal Installation
Garbage disposal installation can seem like a simple enough procedure – for some people. For others, it's a daunting task. If a disposal is installed incorrectly, it could end up costing you more than you bargained. When it's time to replace your kitchen disposal, the smart thing to do is to call a professional plumber.
Kitchen garbage disposals can be quite helpful when cleaning up after meals, as long as they are used correctly. Proper use of your disposal should keep it working properly, well past the warranty period, and should keep your kitchen sink drain clear of stoppages. Improper use could cause the drain to back up in your sink or basement, even in your tub. Putting the wrong items down your disposal could also cause the disposal to malfunction or quit working prematurely (continue reading below for tips on property use and care). Regardless of how well you care for your garbage disposal, you will eventually need to replace the unit. Other than the disposal completely quitting working, how can you tell if it needs to be replaced or repaired?
Here are some of the most common signs that indicate it may be time for garbage disposal installation.
Frequent Clogging:

If your disposal gets clogged up a lot, it usually means there's a problem in the drain lines. However, it could also signal that too much waste is being disposed of in the disposal. Scrape all food waste into trash or compost bins, then only rinse plates over the disposal. If the problem persists, a new disposal may be in order.

Pressing Reset Button Often:

Sometimes you have to hit the reset button on the disposal after clearing a clog, which isn't exactly unusual. However, it shouldn't be done often. If you're having to reset frequently, it could mean that the motor is wearing out or damaged, which would require new garbage disposal installation.

The Disposal Won't Turn On: 

You could have a serious problem if the disposal won't turn on, even after hitting the reset button. Further, after you've made sure the circuit breaker hasn't flipped a switch and the unit still won't turn on, there's a good chance you need to call a plumber to troubleshoot the problem.

The Disposal Is Making Odd Noises:

When the garbage disposal starts making loud or odd noises, such as grinding or rattling, it can signal a serious problem. On the other hand, it could just be a fork or a twisty-tie that found it's way into the sink, which can be easily removed. If you don't find anything obvious, and the unit is still making unusual sounds, it's time to consider a replacement. Please remember, do not insert your hand into the disposal unit unless you are sure the unit will not be switched on accidentally or by another member of the household.

Lingering Odors:

Some foods and waste have bad odors, but aren't normally a problem for the disposal, especially with frequent cleaning and disinfecting. However, if the bad smell won't go away, it could signal an issue. If cleaning the drain doesn't clear the odor, it may be time to consider a new disposal. A trained plumber can let you know if a garbage disposal installation is necessary.

Worn Out Disposal:

 If it takes too long for food waste to grind or the unit is clogging up too often, it could mean that the blades are no longer sharp. When this happens, your best option is to replace the disposal, as repairs wouldn't be worth the money. 

You Evidence Of A Leak: 

Over time, a garbage disposal can develop cracks or start leaking. If you are seeing evidence of water leaking from around the unit, a repair may be possible. However, if you are seeing water leaking from the unit itself, it's likely that you need a new disposal installed. A trained plumbing technician can diagnose the leak and bid for the garbage disposal repairs or replacement.
Now that you know how to spot garbage disposal issues, you may wonder how to best prevent them. The easiest way to care for your disposal is to be careful which items you are putting down the disposal. For many years, we saw recommendations to put certain food items down the disposal to clean or deodorize it. We DO NOT recommend using any of these techniques. Here's a quick reference list of items to NEVER put down your drain:
Noodles, cooked or raw

Potatoes and potato peels

Lemons or lemon zest – No, these are not for deodorizing

Grease, liquid or congealed

Coffee grinds

Celery

Eggshells

Rice

Bones

Any non-food items
If you are unsure if the item should go in the disposal, it's best to use caution and throw it in the trash. The best practice is to scrape all food waste into a trash can or compost bin before rinsing the plate over the disposal. Just this simple practice will keep your disposal working for years to come.
As a full-service plumbing service company, All-n-One Plumbing offers new garbage disposal installations or replacement units, in addition to clearing clogged drains, fixing leaky faucets, working on water lines to the refrigerator and dishwasher, and a variety of other plumbing services.
We provide our customers with prompt, attentive service, up-front pricing, and quality workmanship on every job. We never cut corners or take shortcuts when it comes to your safety and comfort. Expect nothing short of exceptional service with All-n-One Plumbing by your side.
Work with plumbing specialists who have been providing kitchen plumbing services to the Kansas City Metro Area since 2007.
Serving the greater Kansas City metropolitan communities of Blue Springs, Liberty, Gladstone, Raytown, Grandview, Lee's Summit, Bonner Springs, KCK, Leawood, Lenexa, Overland Park, Roeland Park, Shawnee and surrounding area.