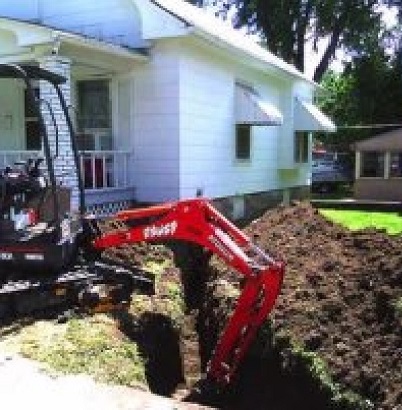 Sewer Line Repair In Kansas City Metro
Sewer line repair is not a job that most homeowners can do themselves. Even the most handy homeowner will need to hire a professional, licensed plumber to make the sewer line repair or replacement. When your sewer lines are in need of repair, a certified, professional plumber will be required to pull the appropriate city permits and have the line inspected.
Kansas City and many of its surrounding communities are older, well-established towns that are full of bad sewers. Back in the days before modern city sewer systems, homeowners relied on cesspools or septic tanks – or in some cases, lagoons, which are drainage ditches for wastewater disposal. There weren't a lot of maintenance tasks involved in keeping things working. Fortunately, those are no longer an issue within city limits, but what is an issue is that the sewer lines most homes have today can be damaged or just wear out.
While it's no secret to those of us in the plumbing business, many homeowners are not aware of the kinds of problems that can lead to sewer line repair – and in more extreme cases, complete sewer line replacement. The sewer, as with every other mechanical system in your home, will last for many years before it will need to be replaced. Regular maintenance can also extend the life of the sewer line. However, sewer pipes can and do wear out. It's not unusual for joints to separate, roots to intrude the line, or settling to cause offsets. In more extreme cases, sewer lines can collapse completely or break to the point of missing sections. In any of these cases, sewer line repairs or replacements are necessary.
Maintenance and repair of your home's sewer system should be as much of a priority as having a good, sound roof, or a properly functioning HVAC system. Just think about it… your home's roof has to be replaced every 15 to 25 years, on average. You don't expect it to last forever. Storm damage and other external factors could cause the roof to need replaced sooner. Further, you can tell by just looking at it if there are missing shingles or it's starting to look a little rough. And obviously, if it starts leaking, you know you're going to have to either get it repaired or replaced.
Your sewer system, on the other hand, is not so easy to predict, because it's underground; out of sight, out of mind. The only way you might discover there is a problem is when the basement drain backs up, or you discover sewage in your shower. If your immediate response is to call a plumber, you are making the right call. The truth of the matter is though, some of us just don't take even that seriously. Maybe we pour some drain cleaner down the sink or toilet and hope for the best.
The fact is if sewer problems go undetected or untreated, the problem only gets worse. Suddenly you're faced with major sewer line back-ups, sewage throughout your basement, ruined belongings, and possible sewer line repair. If you have not had a sewer line inspection and know the condition of your line, you may have no time to prepare or budget. However, the longer you put off the repairs, the higher the risk of more extensive damages and much higher costs. What could have been a simple drain cleaning or small sewer repair could turn into a sewer line replacement and damages to the house itself from sewage.
Contact A Professional Plumber For Sewer Line Repair
When you need competent, affordable repairs or replacement to your home's sewer system, nobody does it better than the experts at All-n-One Plumbing. We've been a staple around Kansas City for over 10 years now, and have built up a solid reputation for being fair, honest, and reliable.
We'll come out and conduct a thorough inspection of your sewer system to determine what the issues are. We'll show you what's causing the problem and explain how and why it's a problem. Then we'll provide you with all available options so you can make the best choice!  Sometimes, the best option is to repair or replace, but sometimes our tech will recommend yearly cleanings and/or root treatments to prevent root build-up. We always provide you with an honest assessment, so you can make the best decision for your specific circumstances.
No matter which option you eventually choose, the work needs to be completed by an experienced and licensed professional plumber. At All-n-One Plumbing, we've been serving the greater Kansas City metro with unrivaled plumbing services since 2007, and we consider our plumbers the best in the business. If you're having a sewer or drain issue, we guarantee we can diagnose and take care of your sewer line repair – often "All-n-One" day.
Call now (816) 886-7600
Serving the greater Kansas City area for over a decade
Sewer Line Repair Services
Video Camera Inspections

Free Estimate

Discounts and Coupons

24 Hour Emergencies

100% Guaranteed

Flat Rate Pricing